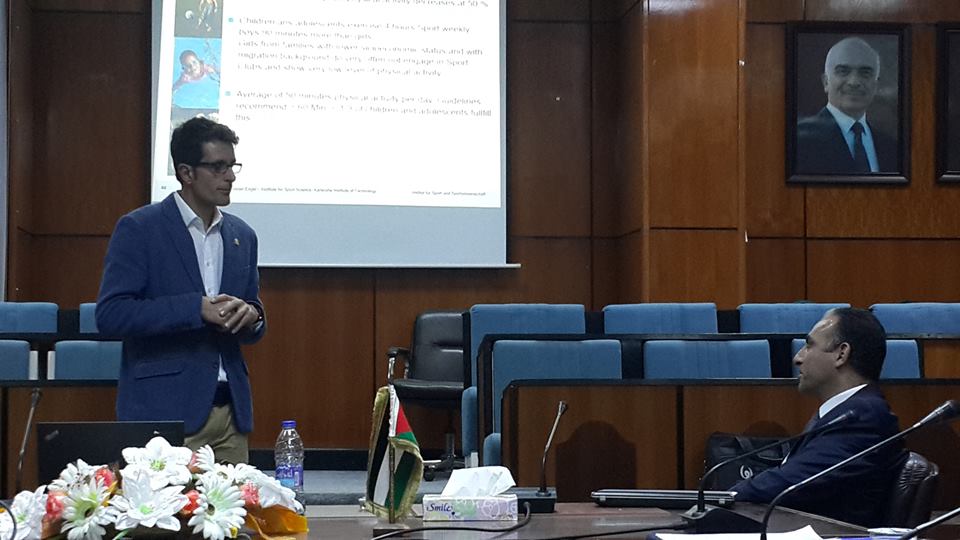 A cooperation agreement was assigned in the department of sport sciences and research institute for school sport and physical education for children and adolescents in the institute of Karlsruhe/Germany and financed by DAAD in the period between 2014 and 2017. This agreement was included the Faculty of Physical Education at Yarmouk University, the Faculty of Physical Education at Asyout University from Egypt and Institute of Physical Education at Sfax University from Tunisia. This agreement aimed for updating study plans at these departments, developing cooperative research projects, developing teaching and research skills, improving teaching field at these institutions, developing young researchers' skills.  Therefore, several lecturers from these intuitions involved in the international symposium (13-14/03/2015) at Karlsruhe Institute. Moreover, postgraduate students from these institutions were involved during the summer school (25/09 -11/10/2015) at Karlsruhe Institute. Also, several researchers were involved in a workshop entitled "the level of physical performance of children and adolescents" that was held at Yarmouk University (04-08/11/2015). A few staff members from the institutions spent research semester at Karlsruhe Institute (03/2017). A workshop was organized in the instate of physical education at Sfax University "physical activity and sport activity for children and adolescents" in the period 15/12 – 18/12/2017.  The agreement was reassigned for additional two years (2019-2020). As a result of this agreement, a group of postgraduate students were involved in a summer school that was held in Karlsruhe Institute in 2019. In 29020, a group of lecturers and postgraduate students were involved in virtual workshop about "Movement performance and childhood development".
 In cooperation with DAAD, and as set by Professor Ahmad Bataineh from Yarmouk University, the Faculty of Physical Education was involved in a workshop entitled "Movement performance and childhood development" organized by the Sport Science Institute in Karlsruhe in the period between 23 and 28/9/2020.
Several lecturers form the faculty presented in the workshop. During the first day, Dr. Waseem Zeidan and Dr. Ghaid Obeidat presented Jordanian traditional games. Moreover, dr. Mariam Abu Olaim gave a talk about movement development and growth of Jordanian children. Dr. Samir Qasim discussed inclusion of children with disabilities in a physical education class. Finally, Dr. Mohammad Thiyabat presented learning and communication for child's development.
In addition to our faculty, this workshop involved lecturers and students form the faculty of physical education at the University of Jordan, Sfax and Manuba Universities from Tunisia.
 The Faculty of Physical Education at Yarmouk University hosted an Asian football training course for "B level" for the faculty students in cooperation with the Jordanian Football Federation. During the course all participants followed preventive protocols of COVID19. According to the dean of the faculty, Prof. Nabil Shamroukh, in the line with the university strategy the faculty aims for developing relationships with several sport national, regional, and international organizations in order to graduate qualified persons in both domains, scientific and practical. Thirteen students were involved in this courses that was supervised by Asian lecturer Islam Thiyabat and his assistant Zed Alshare and dean assistant Dr. Mohammad Maqableh. The course lasted for 28 days. Such courses are important due to its continuous development in the theory and its applications. Jordanian football federation aims for getting qualified coaches and developing their skills and experiences. Prof. Shamroukh said that such courses are very important in the academic and training field for developing students' knowledge and skills regarding skills and developing football tactics. This will hopefully develop the level of football in Jordan. It is worth to mention that this course has 5 stages and the following stage will be held next week.